USB drive files recovery
USB drive files recovery software is cost-effective utility that effectively recovers data from formatted or corrupted USB drive. GUI based user friendly files retrieval utility provides secure data retrieval and recovers all inaccessible, lost, corrupted, damaged, deleted data, files and folders from your USB Drive in the easiest way.
Recovers data from:
Thumb drive, Pen drive, External hard disk drive, Smart drive media, Smart Media, USB drive, Key drive, Disk-on-key, Jump drive, Zip drive etc.
Most happening and common instances of data loss:
Software failure
Accidentally deletion
Hardware malfunctioning
Virus affected USB storage media
Power fault
Human Error
Recovers data including:
Text document
MS Office files
Images, pictures, photos
Audio/Videos
Music files, MP3
Recovery capabilities:
Software recovers data even if USB drive is pulled out without having message "Safe to remove" or "Drive not formatted" message is displayed while accessing USB device on My Computer.
USB Drive volume is not recognized or detected by the system.
USB Disk Drive is logically crashed or damaged.
Recovers files and folders with long file name.
Features of the software:
Easiest data retrieval software restores lost data from formatted or damaged disk even before you have fixed your corrupted storage media.
Provide optimal recovery result in few minutes.
Removable USB drive utility is safe, easy, non destructive and read only utility.
Software tool provide GUI interface that makes easy to use by layman user.
Data Retrieval Support:
Data Retrieval Support for both type of formatting and deletion either by Microsoft Windows or Apple Macintosh OSX.
Support USB Devices:
Major brands including Transcend, Kingston, Jet flash, Sony, Apacer, Sandisk, Lexar, Ritek, Ridata, Supermedia etc.
64MB, 128MB, 256MB, 512MB, 1GB, 2GB, 4GB and even higher capacity drives.
Supported file types:
Text file format: TXT, HTML, PCX, PNG, PPT, SWF, CSV, DOC, MDB, PDF, RTF etc.
Picture file format: JPEG, BMP, TIFF, PSD, GIF, RAW etc.
Video file format: MPEG, MOV, MIDI etc.
Music file format: AVI, MPG, MPEG, MP3, WMV, WAV, WMA, M4P etc.
Installation support (Operating System):
Windows 7, XP Editions (Home, Professional, Media Center, Tablet PC), VISTA (Ultimate Edition, Home Premium Edition, Home Basic Edition, Business Edition, Enterprise Edition), Windows Server 2008, Windows Server 2003 etc.
Minimum system requirement:
Pentium class or higher processor
Minimum 128 MB RAM
12 MB of free hard disk space
Order Online! in

Just $69




Download Free Trial!

(Primary Download Link)
(Alternate Download Link)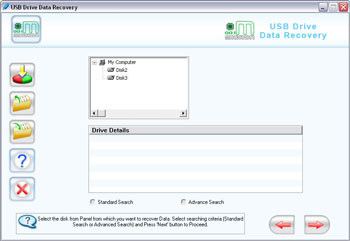 Software PAD url